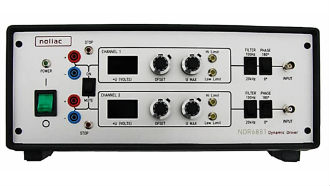 NDR6881 and NDR6881-20A Dual Channel Dynamic Driver
NDR6881 and NDR6881-20A are dual channel dynamic piezo drivers with two separate channels. The output voltage amplitude is 0 to 150 V. The piezo drivers can supply actuators with a capacity of up to 200 µF.
Specifications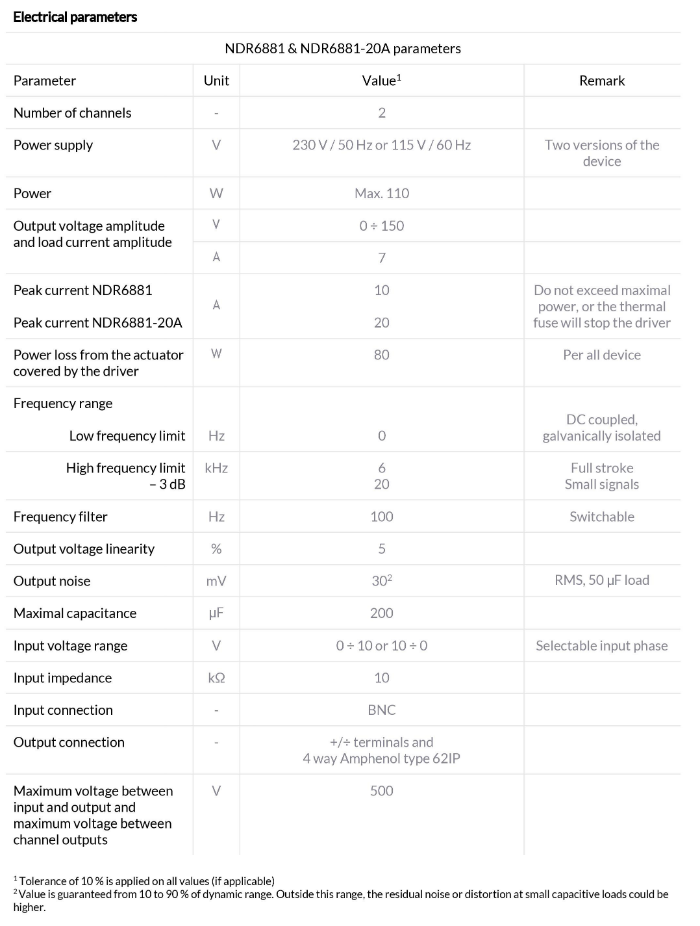 Features
The NDR6881 is one of the high current variations of Noliac's piezo drivers. It is a standalone laboratory desktop unit focused on driving or positioning piezoelectric actuators/stacks of all types. The NDR6881 is a dual channel driving unit used for static and dynamic supply of large piezoelectric actuators having capacity up to 200uF. The piezo driver is mainly used for testing and most commonly pulse driving of stacks.
High current
High power
Power recovering
Wide frequency range
Two separate channels
Galvanic separation of output from other circuitry
The device is not designed for use with loads having high energetic losses. The device also cannot be used with piezoelectric actuators having positive energetic balance in long term meaning (energy harvesting).
The NDR6881 provides a maximal current peak of up to 10 Amps, but is also offered as the high power NDR6881-20A with a maximal current peak value up to 20 Amps.

PDF version