05 April 2017
ESA satellite with Noliac piezo actuator stacks in space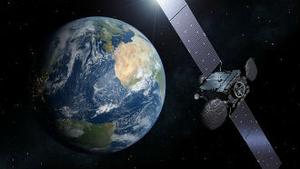 What is SmallGEO?
SmallGEO is a new versatile European satellite platform that can accommodate a wide range of commercial telecommunications payloads and missions. SmallGEO's first flight carried the Hispasat 36W-1 satellite, and it was launched on a Soyuz rocket from Europe's Spaceport in Kourou, French Guiana.
Read more about SmallGEO at www.esa.int
Thrusters equipped with Noliac stacks
The three-tonne satellite was released by Soyuz into its transfer orbit 29 minutes after lift-off. It used its own thrusters to make its way to its final destination at an altitude of 36,000 km over the equator. These thrusters are equipped with Noliac piezo actuator stacks.
In total, eight thrusters was equipped with Noliac piezo stacks, in addition, also the two proportional valves was equipped with the same type of Noliac stacks.
High quality and reliability required
In space, there is no room for failures. Therefore, all components used in satellites must pass a long range of strict qualifications and acceptance tests. Cedric Goueffon, Global Sales Manager at Noliac A/S, explains:
- We are proud that we produce piezo actuators with market leading quality and level of reliability. These parameters are in high demand in most industries, but for space applications, these are even more important. Our actuators passed all the tests needed to be included in this exciting European space project. We are happy that the launch of the satellite went well, and we look forward to join future space projects.
Learn more about our piezo actuators
Contact us for more information
If you want to know more about our piezo actuators, please contact us using our Request for Quote form or contact sales.