19 December 2014
4 good reasons to recommend Noliac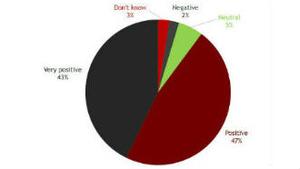 Your opinion is important
It is our strategic goal that our customers will look at Noliac as "Your piezo partner" and this is a core element of how we work with our customers. Therefore, we emphasize the customers' evaluation of Noliac very much. We do this on a day-to-day basis, when we are in contact with our customers, but also conduct a comprehensive customer survey every 2nd year. The survey asks questions about our products, personal service, information, delivery and prices.
Illustration:Noliac's image in the sector of piezo manufacturing: 43% very positive, 47% positive, 5% neutral, 2% negative, 3% don't know.
Good rating in four strategic areas
The result shows that our customers give us a high rating on these four strategic areas: our products, personal service, information and delivery and this corresponds well with our strategy. Cedric Goueffon, Global Sales Manager at Noliac, is satisfied with the result of the survey and states:
- To gain the confidence of our customers, we set high standards in every aspect of our work. Of course, we want our products to be at a constantly high quality, but the standards of other elements of our business are equally high. This include personal service from our sales representatives, the information level on the website and newsletter and also our delivery and packaging. These four aspects are all strategic focus areas, so we are pleased to see that this is appreciated.
- We want to provide excellent product quality and service from the initial contact to the application actually works correctly for the customer. The services from Noliac add value to the products and provide value for money for our customers. Therefore, we will not compete with suppliers only interested in providing products at low prices.
Always room for improvement
The survey also gave room to write comments or suggestions for improvements within the specific areas. Cedric Goueffon expresses that this is highly appreciated and continues:
- The comments and suggestions for improvements are a great help for us, and we take them very seriously. Action plans for the specific comments have been drawn up, and these plans will play a vital part in the further development of Noliac in 2015. For instance, we will work continuously on reducing delivery time in 2015. We also got many comments on our website, and how it can be hard to find the right information. We are currently looking at redesigning the website and will publish a new and improved website during the spring of 2015.