26 January 2018
Broader Bandwidth with Piezoelectric Single Crystals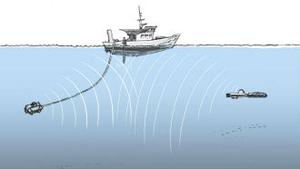 Single crystals for broader bandwidth and higher sensitivity
CTS is the leading developer and manufacturer of high-performance piezoelectric single crystals. These components provide very high electromechanical coupling coefficient, resulting in broader bandwidth and higher sensitivity than traditional piezoelectric bulk components. With the use of single crystals, you can improve the capability of e.g. navy sonar arrays, vector sensors and hydrophones. Due to the higher energy density of single crystals, the transducer size can also be reduced.
Read more about our capabilities on single crystals
Custom designed solutions
CTS is capable of high volume manufacturing of both PMN-PT and PIN-PMN-PT monolithic crystals. The CTS single crystal manufacturing facility utilizes proprietary manufacturing processes and intellectual property for large-scale production of single crystals. The single crystal components are custom designed to match your specific requirements.
Also on display at Oceanology International: Bulk, sensors and transducers
CTS also holds strong capabilities in piezoelectric bulk and the design and manufacturing of ultrasonic sensors and transducers for underwater applications. CTS offers the piezoelectric bulk in a market leading range of dimensions in order to provide the required frequency. We offer a full-service solution for ultrasonic sensors and transducers, where we can manage the product development from the design and development of the prototype to volume and serial production.
Book a meeting at Oceanology International in London
If you want to talk about a piezo solution for your underwater application, please visit our stand A50 at Oceanology International in London, March 13-15. You can also book at meeting at the exhibition by contacting Cedric Goueffon, Sales Manager European Operations:
Any questions?
If you have any questions about our products, please contact us using our Request for Quote form or contact sales.