20 January 2017
Choose your level of customization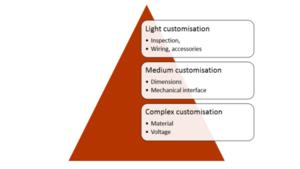 From light to complex customization
Noliac's customers can choose between a market leading number of possibilities for customized design from a light to a more complex type of customization. Cedric Goueffon, Global Sales Manager at Noliac, explains:
- At Noliac, we aim at having the widest range of possibilities to custom design the products rather than having a wide range of standard products. Since Noliac's products are used in applications in very different types of industries, the requirements for the products vary a lot. For some customers, a light customization with additional inspections or wiring is adequate. For other customers, a medium customization with customized dimensions is required. In other cases, a complex customization with a different choice of material or a customized voltage is necessary to match specific requirements.
Assistance from Sales secures the right product
Buying Noliac's products can be compared to a learning process, where the customer and the sales engineer work together to find the right solution. Cedric explains:
- When we talk with our customers, we naturally focus on the requirements that the customer specify. However, in order to ensure that the customer receives the right product, it is equally important to discuss the application where our product will be fitted. Sometimes, a customer will order a standard product to help him begin working with the application. When we talk with the customer again and learn more about his experiences, we can often offer a customized version of the product, which matches the requirements in a better way. The customer story below is a good example of a typical sales process.
Customer story: Nanopositioner for semiconductor industry
A customer was designing and manufacturing a nanopositioner for the semiconductor industry. For this, the customer bought two standard plate actuator stacks with the dimensions 5x5x20mm, since this is a standard size provided by most manufacturers of piezo actuators. The customer then glued the two plate actuator stacks together himself into one plate stack with the dimension 5x5x40mm.
Instead of having the customer spending time and resources on gluing two plates together, we offered to custom design the plate actuator with the dimension 5x5x40mm and to add endplates for better mounting and a protective shrink tube as well.
This solution worked well, but after additional discussions about the requirements for the application, we offered to customize a ring stack, which would be easier to integrate into the specific application. The discussions also indicated that a nominal voltage of 75V would match the requirements better than the original 150V.
Light customization:
Additional inspection
Wiring
Accessories
Medium customization:
Dimensions
Mechanical interface
Material choice
Customized voltage
Contact us with your request or question
If you have any questions or a specific request, we are always ready to help. Please contact us using our Request for Quote form or contact sales.