10 December 2015
Extended specifications for Noliac's piezo drivers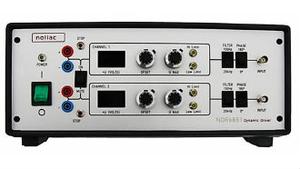 All relevant information online
When selecting and using a driver for piezo actuators there are number of specifications that are vital to know. Karl Vaulogé, Product and Project Manager at Noliac, explains:
- We want to provide our customers with the best service possible during the purchase process as well as after. With the extended specifications, our customers have access to all relevant information about each driver online. Naturally, we are also ready to assist our customers in the choice of piezo drivers in order to ensure the best possible combination of piezo actuator and piezo driver. The extended specifications are also important when using the drivers and include the ranges you need to drive all Noliac piezo actuators safely. If you need further information on how to choose the right piezo driver or how use it, please do not hesitate to contact us. See the contact information below.
Drivers for all Noliac piezo actuators
Noliac develops and manufactures single and dual channel dynamic piezo drivers to supply all our piezoelectric actuators. The piezo drivers can be used as a part of a fine adjustment mechanism in mechanical positioning equipment with piezo feed or for other piezo element applications.
Standard or customized solutions
The piezo drivers are perfect companions to our piezo products, and we have developed standard ranges that can be customized according to your requirements.
Learn more about your possibilities for customization for drivers
Contact us for more information
If you have any questions about our piezo drivers, please contact us using our Request for Quote form or contact sales.