30 June 2015
Great impressions from Laser World of Photonics 2015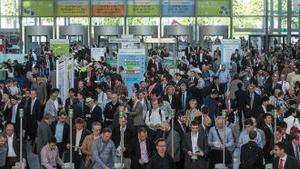 Your photonics piezo partner
Ondrej Soudek, Sales engineer at Noliac, visited the Laser World of Photonics and met with many potential customers. Ondrej Soudek explains what they are looking for:
- The photonics and optical companies are looking for reliable partners to engage in close working relationships to develop new applications. We provide the expertise in piezo technology and we offer products with market leading performance and reliability. On top of that, we are experts at making custom designed solutions to match specific requirements. At Noliac, we believe that these factors are vital if your company is to be a credible partner, Ondrej ends.
Growing market
The trade fair was well attended and there was a positive atmosphere. Ondrej Soudek talked to many exhibitors and visitors and they all expressed optimism for the future of photonics. Ondrej elaborates:
- In general, people are optimistic about photonics and they say the market is moving forward expecting some growth in the future. The fair also proved a good place to be updated on the newest developments in the business, and I saw many new and impressive products at the fair supporting the general sense of optimism.
Do you want more information?
If you want to hear more about Noliac, our products or how we can help you with your next application, please contact us using our Request for Quote form or contact sales.
Photograph: Messe München International