05 January 2015
Highest possible rating in the annual DNV audit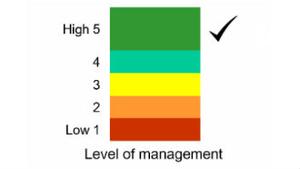 Rated 5 out of 5!
When auditing quality management systems, DNV uses a scale ranging from 1 to 5, where 5 is the highest rating. Noliac received the rating 4 in 2013, but in the 2014 audit we had improved and our systems was rated with the highest possible score.
Acknowledgment for new activities
Jean Bruland, Quality Assurance Manager at Noliac, is pleased by the result of the audit and with the fact that the new activities were recognized by DNV. He states:
- At Noliac, we always look for new activities to maintain and improve the consistently high quality of our products. Therefore, we are very pleased by the overall rating and by the acknowledgment of our new activities. For instance, the internal audit is now carried out by an employee from a different part of the organization than the one being audited. We have also implemented a long range of activities to identify faults earlier in the production process, reducing the amount of faults found in the final inspection significantly. Another new activity is our Kaizen Board with ongoing focus on improving the production process.
Why is Noliac ISO certified?
Noliac works to ensure a consistently high quality level. Therefore, Noliac's quality management system is certified according to the standards of ISO 9001 and has been so since 2007. Jean Bruland explains:
- The ISO certificate is a seal of approval from a third party and works as an assurance for our customers that we always deliver our products in the same high quality. This is important to our customers and a key focus area for Noliac.