31 March 2016
Impressions from Oceanology International 2016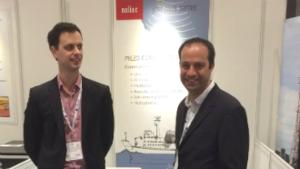 Great interest in Noliac's products
Noliac exhibited for the second time at Oceanology International, and Noliac's booth was a busy place. Guillaume Cadiou, Area Sales Manager at Noliac, gives his impressions of the exhibition:
- Noliac exhibited at Oceanology International in 2014, and we came to the exhibition this year with great expectations. All our expectations were met and we had many visitors at our booth. All three days of the exhibition we had several interesting questions and discussions with both existing and potential customers. We return from the exhibition with many new contacts who want to know more about Noliac in general or with specific requests. We look forward to work with our new contacts, and we look forward to exhibit again at Oceanology International in 2018.
Complex applications match Noliac's capabilities
Underwater applications are a strategic focus area for Noliac. Cedric Goueffon, Global Sales Manager at Noliac, explains:
- The exhibition confirmed that this is an important area with great potential for Noliac. Applications for underwater purposes are complex products with high quality standards with a focus on reliability. This matches our portfolio of high quality products perfectly. Our market leading capabilities to custom design our products according to specific requirements are also in high demand in this area. This ensures that the customer will get piezo components fitting the particular application exactly.
High quality piezo components for all purposes
Noliac develops and produces high quality piezo components with market leading dimensions and reliability. We offer the piezo components as rings, tubes, discs or plates or as a custom shape. Since we custom design all piezo components, we offer them in small quantities as well as volume production.
More information?
If you want to know more about Noliac's piezo products, customization or otherwise, please contact us using our Request for Quote form or contact sales.