12 September 2014
New strain sensors for measurement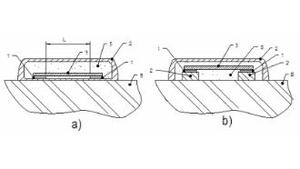 Noliac offers to customize this product to specific applications, for example bridges, buildings, machines etc.
Construction of the strain sensor
Strain sensors utilize piezoelectric shear element(s) or stack(s) of shear elements (1), which are connected with the measured surface (B) directly or through one wall of the casing (2) or through distance pads (2'). All are firmly connected to the measured surface (B). The construction is illustrated in the figure above, although the illustration does not obtain all possible configurations.
The elements (1) are joined by a force transferring element (3), which is not firmly connected with the casing, and therefore does not transfer strain or forces from the casing. The distance (L) between the measuring places could be from zero up to a limit given by requested dynamic properties or sensitivity.
The sensor could be filled by flexible potting material (5).
See a larger version of the figure