27 January 2017
Noliac piezo actuators in high quality microscopy systems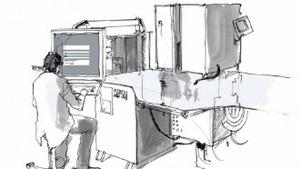 Precision is king
Regardless of the type of microscopy system, high quality microscopy relies on components with high precision and reliability. Charles Mangeot, Senior R&D Engineer at Noliac, explains:
- All SPM systems require a mechanical scanning system to move the sample according to the position of the probe. The same applies to high resolution optical systems (interferometry, spectroscopy) as well as some SEM systems. In some cases, the SPM is equipped to conduct more specialized functions such as nano-tribometer or nano-indenter. The mechanical scanning and probing systems in these microscopes obviously need to be extremely precise on sub-micron level. Noliac's piezo actuators meet these requirements, and that is why Noliac's actuators are widely used in this industry.
Examples of piezo actuators for microscopy systems
There are different requirements for the piezo actuators depending on the specific microscopy system and whether they are used for scanning, probing of for another function. Charles Mangeot explains and gives a few examples:
- Typically, the range of movement needed for the probing systems in SPM systems is very small. For instance, piezo actuators for probing in the Z axis only need to provide a few microns of stroke, but high bandwidth. Therefore, a single plate actuator or a short actuator plate stack will be used here. For scanning in the X-Y plane, longer actuator stacks are commonly used, sometimes together with a mechanical amplification to achieve scanning ranges of several 100 microns. The requirement for force is low, so in general, a small cross-section (for example, 5x5x30mm is sufficient. Some customers use actuator benders for specific functions, but in general, the preferred actuator types are single plate or stacked actuators because they provide a more linear response and higher bandwidth.
Learn more about Noliac's actuators
Contact us
>If you have any questions or specific requests about piezo actuators for microscopy systems, please contact us using our Request for Quote form or contact sales.