16 December 2015
Noliac piezo benders in space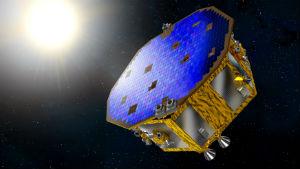 Noliac's piezo benders passed the tests
All products used in space need to pass a long line of qualifications and acceptance tests. Noliac provided SELEX ES with piezo bender rings, which therefore also needed to pass the tests. Jacopo Bussotti explains:
- SELEX ES has developed the micro-thruster (MT) cold gas propulsion system. Inside one of the most important MTs, the thruster valves are equipped with the Noliac ceramic multilayer bender rings that successfully passed all the qualifications and acceptance test campaigns; the combination of a high mechanical precision of the thruster Valve plunger and a micrometric movements of the piezo ring bender, allow a thrust control in the range of 10-6 N, Jacopo Bussotti ends.
LISA Pathfinder paves the way
The launch of the LISA Pathfinder is the first step of a series of missions. Jacopo Bussotti, Product Assurance Manager at Selex ES, explains the complex LISA Pathfinder mission:
- LISA Pathfinder will test the technology needed to develop future space-borne gravitational wave detectors. Finding low-frequency gravitational waves would provide a new way of observing the Universe. Using gravitational waves, large-scale events billions of light-years away would be observed better than observations in the electromagnetic spectrum. The technology being tested in LISA Pathfinder will lead to new great experiments in gravity as modern researchers look for ways to extend Einstein's theory of relativity so that it can be set to understand the moment of the Big Bang and the internal workings of black holes. The spacecraft, provided by ESA, carries a cold gas propulsion system, developed originally for the Gaia mission, and a Drag-Free Attitude Control System (DFACS). The spacecraft must keep its position around the two test masses, which should have no forces acting on them. The test masses are cubes of gold and platinum alloy and function both as mirrors for the interferometer.