26 April 2016
Noliac Systems is moving to bigger facilities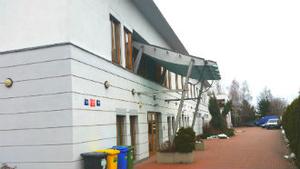 Room for a semi-automatic assembly line
Noliac Systems develops and produces sensors, transducers and electronic system solutions. Petr Bubla, Executive & Managing Director of Noliac Systems, explains why Noliac Systems is moving:
- We are very pleased with the success of Noliac Systems. To keep up with the growth in sales, we have increased the number of employees. However, we are reaching the limits of the current facilities. In order to be able to meet the growing customer demands, we need more space. In our new facilities, we can have more people in one shift, since there is room for almost twice as many employees as now. We are also planning a semi-automatic assembly line for higher volume production.
400 meters down the road
The new facilities are located only 400 meters from the current facilities. This is a quiet industrial area close to the airport and with good connections to public transport. It was important to find new facilities in the same area, as this ensures a smooth transition for the production as well as for the employees.
Move completed July 1 with no closing days
The move will take place in the end of June and will be completed July 1. The production in the current facilities will be fully operational until the last moment of the move. Therefore, the move will be without significant impact on our customers.
New address
Bavorská Street No. 1138/6
155 00 Prague 13-Stodůlky
Czech Republic
Two vacancies open at Noliac Systems
Right now, Noliac Systems is looking for two new colleagues for the R&D team: A Precision/Fine Mechanics and an Electroengineer. You can read the requirements and find full descriptions of the vacancies on www.noliac.com.
Noliac Systems capabilities: 3 steps with significant impact
Whether you already have a piezo device, which just needs tuning, or you have an idea for a new design, Noliac Systems offers its services. The services can be boiled down to three basic steps:
Analyzing and feasibility studies
Designing parameters and development
Prototyping and manufacturing
Some customers take advantage of all three steps, while some prefer only one or two steps.