12 May 2016
Piezo components with custom wires added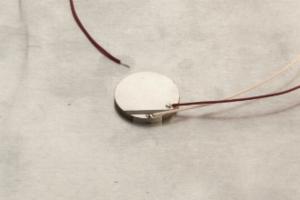 Plug-and-play solution saving time and money
Noliac's customers often require piezo solutions that can be integrated in specific applications without any additional work by the customers. Cedric Goueffon, Global Sales Manager at Noliac A/S, explains:
- A customized solution is easier to integrate directly in the application, saving the customers both time and money. We have the capability to produce piezo components in a wide range of sizes, and we can produce in custom shapes as well. This ensures that the piezo component fits exactly into the application. Having wires added to the piezo component adds the extra value of a plug-and-play solution. We take care of soldering the wire, and the customer can focus on finishing the application instead of spending resources on preparing the piezo components. Plus, proper soldering wires on piezo ceramics requires a certain level of expertise and know-how, which Noliac has developed over the years. Contact us and hear more about the possibilities.
Custom design of all Noliac's products
Noliac aims to provide piezo solutions matching the customers' specific requirements. Therefore, all Noliac's products can be custom designed in many different ways depending on the product.
Customization capabilities
Material choice
Stacking
Electrode material and pattern
Dimensions and geometry
Frequency tolerances
Nominal voltage
Testing
Ultra-high vacuum
End pieces
Strain gauge
Parallelism
Connectors
Wires
Learn more about customization of Noliac's different products
More information about custom design?
If you want to know more about piezo components with wires or any of the other possibilities for custom design, please contact us using our Request for quote form or contact sales.
Want to join our webinar on custom design?
We offer a free webinar describing the possibilities for custom designing all our piezo products.