03 July 2015
Piezo technology course with Heinmade held in the Netherlands October 8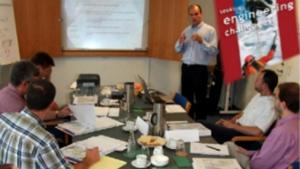 Gain insight in design rules and application examples
The piezo course covers all aspects from manufacturing of raw material to examples of piezo based applications. In addition, the course will present a typical design example of an objective stage. After the course, you will have a basic insight in all key elements of piezo technology as well as practical tools to work with your piezo-based applications.
Read more about the one-day piezo technology course
Lecturer and timing
Charles Mangeot, Senior R&D Engineer at Noliac, will present the piezo technology. From Heinmade Hein Schellens and Maikel Heeren will present piezo motors and the design steps of an objective stage.
This one-day course will be held on Thursday October 8 from 8:30 AM to 5 PM.
The course is held at Conference Centre Koningshof, Locht 117, 5504 RM Veldhoven, The Netherlands.
Subscription and conditions
To subscribe to the piezo technology course please send an e-mail (info@heinmade.com) with your contact details.
A subscription fee of €500,- will be invoiced 3 weeks prior to the course. Subscription fee is non-refundable but transfer to a colleague is possible. A maximum number of 16 attendants is applicable.
Questions?
If you have any questions about the one-day course, please contact Hein Schellens (+31 40 851 2180).