08 May 2017
Piezoelectric products in ultrasonic level measurement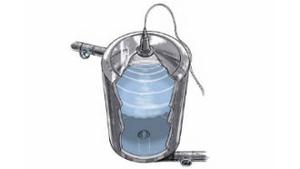 Advantages of ultrasonic level measurement
One of the major advantages of ultrasonic level measurement is the fact that there is no contact with the fluid measured. Therefore, there is no negative impact from, for instance, corrosive or viscous liquids disturbing the measurement. Since there is no contact with the measured substance, the ultrasonic solution requires minimal maintenance.
How does ultrasonic level measurement work?
The transducer in an ultrasonic device emits sound waves or pulses at a given rate, for example four times per second. The wave travels through air, is reflected by the fluid to be measured and then returns to the transducer. The device measures the time from the ultrasound waves leave the transducer until the reflection returns. The time measured is then converted into a measurement of distance or liquid height level within the tank, pipe etc.
Piezo components matching your requirements
Naturally, a high level of reliability and minimal maintenance is vital for measuring and monitoring devices such as ultrasonic level measurement. Noliac's provides high quality piezo components necessary to design and manufacture reliable devices. The components can be custom designed to match specific requirements regarding e.g. shape, dimensions, electrode materials and shapes, and frequency tolerances.
Typically, ultrasonic level measurement devices are fitted with monolayer piezo discs using our hard doped piezoceramic material NCE40, which provides a good compromise between power capability for the actuation function and sensitivity for the sensing function. However, for applications with low power and non-harsh environments, soft material like NCE51 with high coupling factors and a low mechanical quality factor will be a good match for ultrasonic transmitters and receivers with optimum sensitivity.
Custom designed transducers
Noliac also offers to design and manufacture custom designed transducers, so that you can focus on the final application. We have worked with transducers for test and measurement on a broad range of applications for many years, so we have the necessary in-depth knowledge and hands-on experience to ensure the right design. For instance, we keep in mind the importance of the shape of the acoustical field and the radiation pattern, and how to compromise better depth resolution, quality and high sensitivity by precisely tuning and matching the piezoelectric components and devices we build.
Contact us for more information
If you have any questions regarding piezo products for your ultrasonic level measurement device, please contact us using our Request for Quote form or contact sales.