08 December 2017
Piezoelectric Single Crystals for Intravascular Ultrasound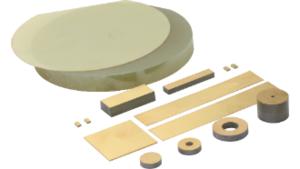 Basics of piezoelectric single crystals
As the name implies, piezoelectric single crystals have a different structure than polycrystalline piezoelectric ceramics. The latter consists of a number of small grains (crystallites) randomly oriented, each containing domains in which the polar direction of the unit cells is aligned. On the contrary, a single crystal offers a more homogeneous structure with a better controlled crystallographic orientation. As a result, with the appropriate orientation and poling, the piezoelectric coupling factor can be optimized, in other words the electrical-to-mechanical energy conversion is significantly superior compared to polycrystalline materials. Thus, using piezoelectric single crystal components enables a much higher sensitivity and wider bandwidth than with the use of piezoelectric bulk components.
Example of an ultrasound health care application: IVUS
Intravascular Ultrasound (IVUS) is a medical imaging application widely used for diagnosing coronary artery diseases. The IVUS features a specially designed catheter fitted with a miniaturized ultrasound probe. Using ultrasound imaging technology, it is possible to visualize the inner wall of blood vessels. Polycrystalline piezoelectric ceramics have been widely used for ultrasound transducers in IVUS. With the introduction of single crystals, it is now possible to design small aperture ultrasound transducer in IVUS with improved sensitivity. The components made from piezoelectric single crystals provide much higher electromechanical coupling, resulting in broader bandwidth and higher sensitivity. As a result, the signal to noise ratio can be improved and a better resolution of the imaging can be achieved.
There are different probe designs for IVUS. One design uses a single crystal composite in a single element configuration. Piezo composites offer several advantages compared to monolithic elements, particularly a lower acoustic impedance and a lower mechanical quality factor (Qm). The typical size of the composite element is ~ 0.5 mm x 0.5 mm.
CTS single crystal and composite capabilities
CTS is the leading developer and manufacturer of high-performance piezoelectric single crystals; specializing in lead magnesium niobate-lead titanate (PMN-PT) based materials. CTS single crystal manufacturing facility utilizes proprietary manufacturing processes and intellectual property for large-scale production of single crystals. CTS is capable of supplying high volume single crystal piezoelectric components up to 90 mm in length. Products are available in custom specifications and different configurations to match customer requirements. Noliac is a part of CTS Corporation.
For the IVUS application, CTS Corporation can offer a fully integrated solution from the design and manufacture of the single crystal to the manufacture of the composite with matching and backing layers.
More information on piezoelectric single crystals?
If you want to know more about the possibilities of using piezoelectric single crystals for your application, you can download our brochure on single crystals or contact us using our Technical Inquiry Form.