07 March 2016
Product launch: High temperature stacks for extreme environments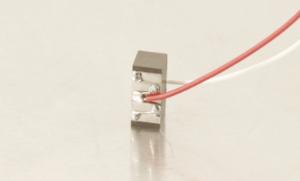 Ideal for high temperature applications
The standard Noliac actuator stacks have a maximum operating temperature of 150°C, but following customer requests, Noliac has developed a new category of actuators. These high temperature actuators can operate in extreme environments with temperatures up to 200°C combined with a high frequency operation. The extended temperature range will expand the possible applications using our piezo actuator stacks significantly. We look forward to assisting with the development of new applications.
High operating temperature and high frequency
The choice of materials is crucial to reach a high operating temperature. Charles Mangeot, Senior R&D Engineer at Noliac, has been leading the development work on the high temperature stacks. He explains:
- To achieve the high maximum operating temperature of 200°C, we are using piezo actuators made of our hard doped piezoceramic material NCE46. The high temperature stacks are specific versions of our standard actuator stacks made of this material. These stacks also operate at a higher frequency than our regular actuators. To endure the high temperature and high frequency, the stacks are soldered with a special soldering and fitted with special wires as well.
Besides the features of high operating temperature and high frequency, the high temperature stacks offer more stable performances over a wide temperature range.
Product range
We currently offer these high temperature plate actuator stacks:
Go to the high temperature stacks
Other sizes are available on request. If you require high temperature ring stacks or a different operating voltage, this is also possible on request.
Questions?
If you have any questions about the high temperature stacks, please contact us using our Request for Quote form or contact sales.