19 October 2015
Product launch: strain gauge for piezo actuators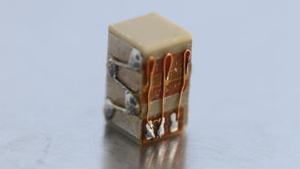 A plug-and-play solution
The strain gauge provides feedback used to ensure linear displacement response and to compensate for creep and hysteresis. This enables a highly accurate and repeatable motion vital for nano- and micropositioning and many other types of applications. The strain gauge is fitted directly to the individual piezo actuator and can be applied to both plate and ring piezo actuators, single and stacked. Cedric Goueffon, Global Sales Manager at Noliac, explains:
- Many customers have contacted us about the possibility of adding a strain gauge to the actuators as an add-on. Therefore, we are happy to announce that we now offer a full package. We have developed this plug-and-play solution saving the customers the trouble of having the actuator fitted with a strain gauge elsewhere. To start with, we offer the strain gauge for piezo plate and ring actuators, single and stacked, and a version for piezo plate and ring benders will be launched later. The strain gauge for plate and ring actuators can be ordered now.
Options to fit customer requests
Noliac is always looking for ways to accommodate the requests from our customers. Therefore, we have a list of options that can be applied to the actuators to ensure a perfect match for specific applications:
More information?
If you want to know more about the strain gauge or other of our options, please contact us using the Request for Quote form or contact sales.