17 June 2016
Smart actuators from A to Z at Actuator 2016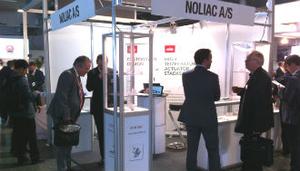 Interesting conference
Noliac submitted four papers about new piezoelectric findings to the conference this year. Bjørn Andersen, CEO at Noliac, and Charles Mangeot, Senior R&D Engineer at Noliac, attended the conference. Charles Mangeot has these comments about the conference:
- Actuator is one of the main events for smart actuators, so it is always interesting to present publications there. This year we contributed with four papers showing some of our newest findings and developments in piezo technology, and we received interesting feedback. We also had the opportunity to attend many fascinating presentations, which showed just how broad the world of smart actuators is. We see that piezo technology is really mature with well-established players and applications.
Showing new products and talking market trends
At the exhibition, Noliac presented the complete product range including the newest products. Cedric Goueffon, Global Sales Manager at Noliac, explains:
- Of course, we want to show our products at Actuator, and we had the pleasure of showing several new products this year. At the booth, there was much interest to hear more about our damage tolerant actuator stacks, high temperature stacks, shear stacks and the non-magnetic piezo motor from both existing and potential customers. We look forward to promoting these new products even more in the future. Some of our competitors exhibited at Actuator 2016 as well, and it was interesting to talk to them about the different trends and possibilities in the market for piezo technology. We look forward to returning to Actuator in 2018.
Want to know more about our new products?