28 January 2016
Soft doped material with high temperature stability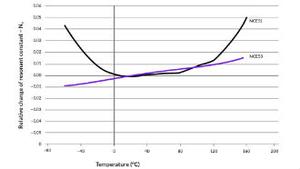 Piezoceramic materials with high sensitivity
Soft doped piezoceramic materials have their strength in applications requiring high strain. The high sensitivity of the materials makes them particularly suitable for sensing applications, receivers, actuators and low power transducers.
NCE53 with high temperature stability
NCE53 is a material developed specifically to meet requirements for high temperature and time stability. Lukáš Rusyniak, R&D Engineer at Noliac Ceramic, explains:
- NCE53 has the advantage of high temperature stability, which is particularly suitable for applications working in the temperature area ranging from -40°C to +160°C. This material is therefore suited for automotive applications and other applications working in environments with variable temperature. To show the high temperature stability of NCE53, we have made graphs comparing the temperature properties of NCE53 with NCE51, which is another of our soft doped materials.
See the temperature stability of NCE53 compared to NCE51
NCE51 for accelerometers and flow sensors
NCE51 is a standard soft material used for the receiver or generator element in hydrophones, accelerometers and vibration and flow sensors; low-power ultrasonic transducers, non-resonant broadband systems, for force and acoustic pickups and for acoustic applications.