07 December 2015
Successful annual ISO 9001:2008 audit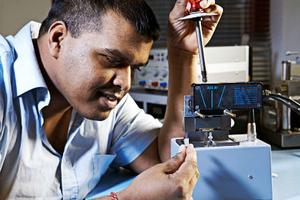 Highest possible rating
When DNV GL is auditing, they rate the quality management system using a scale ranging from 1 to 5. Noliac received the highest possible rating for the second consecutive year, and the audit highlighted several positive items regarding the quality management as well.
Successful reduction of claims
One of the areas highlighted by DNV GL at the audit, was the fact that Noliac has significantly reduced the number of claims from 2014 to 2015. Morten Gleie, Quality Responsible at Noliac, explains why there is a successful decline of claims:
- It has been a strategic focus area to reduce the number of claims. To achieve this, we have focused on two areas: improving the production process and our final inspection. Naturally, we want to detect any faults as early as possible in the production process. Therefore, we have introduced cameras monitoring vital parts of the build-up process of our multilayer production. Another initiative has been to expand the control in the different parts of the production process. We have extended our use of microscopes to control the products before they are transferred to the next production process.
Focus on quality at all levels
Another of the items highlighted by DNV GL was the general level of professional competences especially among the production employees. Morten Gleie explains:
- We have focused on implementing the quality system throughout the organization to ensure a constant focus on quality at all levels. Also, we are fortunate to have dedicated employees that take responsibility for the quality of their work. The commitment of the employees is an important explanation for the consistent, high quality at Noliac.
More information about quality at Noliac
You can find more information about Noliac's ISO certification, REACH, RoHS, ATEX and handling of conflict materials in the Quality section on www.noliac.com.