03 September 2015
Successful ISO audit at Noliac Ceramics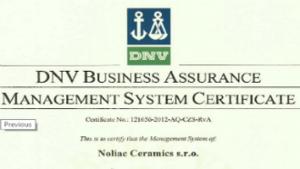 A proof of consistent high production quality
ISO 9001 is a management system focusing on quality and efficient production management. Karel Zídek, Quality Assurance Manager at Noliac Ceramics, explains why Noliac Ceramics is ISO certified:
- Our customers know that the ISO certification is an assurance that we deliver our products in a consistent, high quality. Naturally, this is vital for our customers and therefore Noliac Ceramics has been ISO 9001:2008 certified since September 2012. The audit was conducted by DNV GL, and the renewal of the ISO certificate is valid for a three year period.
Learn more about quality at Noliac
Read more about ISO 9001 at dnvgl.com
New activities to improve the production process
Noliac is always looking for ways to improve the production process, and several initiatives have been introduced to ensure this. Karel Zídek explains some of the initiatives:
- In order to comply with the requirement of the ISO standard that objectives must be measurable, our quality objectives were defined as SMART (S: Specific, M: Measurable, A: Achievable/Acceptable, R: Realistic/Relevant, T: Time Specific/Trackable). The focus on measurable quality objects has resulted in a decrease of quality complaints and an increase of the delivery performance. At the same time, we have been focusing on improving the internal communication in the organization and the external communication with our customers. This has resulted in a much better understanding of the process flow both internally and for the customers.