20 December 2016
Good rating at Noliac's customer survey 2016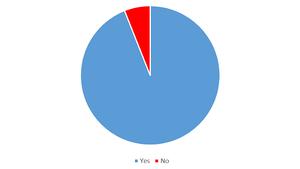 Four key areas with high rating
The survey shows that Noliac's customers are satisfied with Noliac in four key areas: Information, personal service, products and delivery. Cedric Goueffon, Global Sales Manager at Noliac, explains:
- Naturally, we are satisfied that our customers appreciate our work. The four areas combined constitute our strategy, where we seek to offer a 360° approach to our customers. The base is of course our high quality products, but in order to be the preferred piezo partner, our goal is to have high standards on all these parameters. Therefore, we offer highly qualified service from our sales representatives, we have a high level of information on our website and in the newsletter, and we also focus on short delivery time and delivering our products on time.
Illustration: Would you recommend Noliac? Yes: 94%, No: 6%
94% would recommend Noliac
In the survey, the participants were asked if they would recommend Noliac. An impressive 94% answered yes to this question. The comments accompanying this question pointed at the quality of the products and the personal service from Sales as the primary reasons to recommend Noliac. Another interesting information from the survey is that 32% answered that they first learned about Noliac from recommendations.
More than 600 comments and suggestions
As a part of the survey, the participants could fill out comments for each question and also enter suggestions on how Noliac could improve. This resulted in more than 600 comments. Cedric Goueffon explains:
- We are very pleased with the fact that so many took the time to write comments and suggestions on how Noliac could improve. We value this input from our customers very highly, and we have analysed the results and all the comments. They are all basis for a detailed action plan, which will be carried out during 2017.