07 May 2014
More than 3000 hours operation time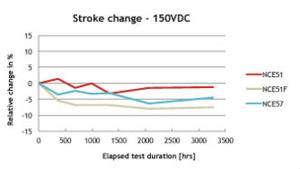 Maximum stroke reduction of 8%
Process Development Engineer Lars Gjødvad has conducted the study and explains:
- We saw a maximum decrease in stroke of 8%, which is excellent. Measurement uncertainty is estimated to correspond to approximately 3%, so a max stroke reduction of 3 times the measurement uncertainty is indeed acceptable.
Find out more about the reliability of Noliac actuators
Go to the reliability study (PDF)
Capacitance less than 6% difference
Changes in capacitance as function of elapsed test time are less than 6% difference from "as produced" values. Depending on conditions use, capacitance decrease on the order of 5-15% could be anticipated. Measurement uncertainty for the capacitance measurement would correspond to 0.01% which must be regarded negligible.
Excellent reliability
Lars Gjødvad adds up:
- All in all, Noliac multilayer actuators show excellent reliability. Operation in excess of 3000 hours or 1*1010 cycles is absolutely satisfactory and confirms the fact that we produce multilayer actuators of very high quality and reliability.
Further information?
If you want further information about the reliability of Noliac's actuators, please contact us using our Request for Quote form or contact sales.