30 April 2015
Noliac at ocean technology and medical exhibitions in April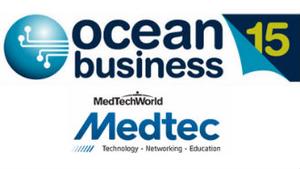 Ocean Business 2015
Ocean technology is a strategic focus area for Noliac, and Noliac has strong expertise in this area from working in this field for many years. Guillaume Cadiou, Area Sales Manager at Noliac, visited the exhibition on April 15th in company with Cedric Goueffon, Global Sales Manager at Noliac, and he states:
- We know the ocean technology industry well, and we have been working with several partners within the ocean technology industry for a number of years. Oceanography, off shore survey and pollution control are among the industries that show great promise. Ocean Business 2015 was a good way to get inspiration and to network with both existing and potential customers.
Medtec 2015
Many medical manufacturers are using piezo technology in their medical devices – and the number is still increasing. The reliability and precision of piezotechnology are obvious advantages to be used by medical manufacturers. Ondrej Soudek, Sales Engineer at Noliac, visited the exhibition and states:
- Health care is a growing business area for Noliac with great potential. Noliac has a long history of producing components for the health care industry, and we can provide products fulfilling the high standards that this industry requires. The exhibition was a good opportunity to be updated on the latest products and technologies used in the industry, and to meet our existing customers and talk to future customers.