09 November 2015
Thickest piezo plate component yet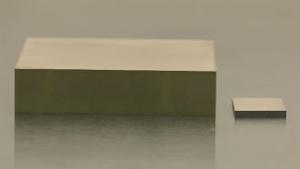 Expanded production capabilities improves the size range
The thickness of the piezo plate is important in many applications, and therefore Noliac wants to offer the largest size range possible. Cedric Goueffon, Global Sales Manager at Noliac, explains the new expansion in the production capabilities:
- Some of the requests we receive from our customers require us to push the boundaries of our production capabilities. We are constantly looking for ways to improve the product ranges, and we are happy to announce that we have expanded the production capabilities at Noliac. As a result of this, we can now offer our thickest piezo plate component to date of up to 25 mm. This enables an even wider use of the piezo plates, for instance in sonar equipment.
Read more about the piezo plates
Customized design and scalable production
Noliac offers a market leading level of possibilities for customized design. This ensures that the customers can have the products according to specific requirements. We have a scalable production, meaning that we offer the choice of customized batches down to just one product but also in volume production.