14 March 2017
Piezo products in ultrasonic surgery devices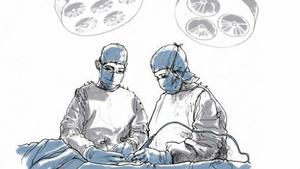 Increased safety and precision with ultrasonic surgery
Ultrasonic surgery instruments offer numerous advantages over traditional techniques. Increased safety, visibility, precision, faster healing and more comfort for the patient are just few of the advantages. Ultrasonic surgery can be used in a number of clinical situations including bone surgery, eye surgery, sinus elevation and extractions.
High quality piezo components
When designing ultrasonic surgery devices, you look for piezo components with high reliability. This is exactly what Noliac's monolayer piezo components provide. The components are offered in a wide range of dimensions and shapes. Typically, ultrasonic surgery devices are fitted withmonolayer piezo rings made of a hard doped piezoceramic material. This material is designed for high power ultrasonic devices. The components are custom designed for easy integration to your application.
Short delivery time and scalable production
Noliac offers the piezo components with short delivery time down to one week depending on the type of product. Noliac also offers scalable production from one item to volume production. Contact us and hear about the delivery time for your components.
Custom designed transducers
Noliac can custom design any kind of piezoelectric transducer, and we offer a full-service solution from prototype to production. We have a long history of designing and developing customized transducers for ultrasonic surgery devices. Therefore, we know the typical challenges when designing this type of transducer. For instance, the importance of a proper resonance frequency for requested amplitude, the tuning of performance versus minimum losses of the device, to have minimal impedance in resonance, or how to avoid parasitic resonances in working range of frequencies.
Contact us for more information
If you have any questions regarding piezo products for your ultrasonic surgery device, please contact us using our Request for Quote form or contact sales.