Backlash
A PAD is inherently backlash-free. Whenever the drive is powered, the piezo actuators apply a radial force on the ring, pushing it in firm contact with the shaft. There is no gap within the microgear, therefore no backlash.
If an external torque is applied on the shaft, the mechanical parts will deflect elastically. However stiffness is very high, so deflection is very low even in open-loop configuration.
Resolution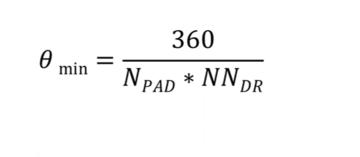 Electromagnetic stepper motors generate discrete "steps" and can "microstep" between these stable positions by modulating the input signals. As opposed to that, when a PAD rotates, the contact point between ring and shaft moves continuously on a circular path. This means that at any point in time, the PAD is in the same mechanical configuration so characteristics are homogeneous. Thanks to this, position can be controlled with an extremely high resolution.
Resolution of a PAD system depends on the internal gearing of the PAD and the output resolution of the NDR. The angular resolution (in degrees) can be expressed:
With:
NPAD: Number of teeth on the shaft of the PAD
NNDR: Number of points per PAD cycle generated by the NDR
For example, a PAD with NPAD=312 teeth on the output shaft combined with a NDR generating NNDR=1024 points per PAD cycle can achieve a resolution of 312*1024=319488 points per turn. In other words 0,0011°, 20µrad or 4arcsec.
Jitter
When holding position, electrical noise from the NDR converts into small movement of the output shaft. This jitter (in degrees) can be estimated by:
NPAD: Number of teeth on the shaft of the PAD
δU: Voltage jitter on output of NDR
Up-p: Nominal peak-peak voltage of the PAD
Axial loads on output shaft
Most PADs are not designed to sustain axial loads. The shaft provides some axial play.
In many cases, it is more effective to include an application-specific thrust bearing in parallel to the PAD. If an axial load is present, additional friction in the thrust bearing can lead to some hysteresis in position of the output shaft.
Sign up for our webinars
Our free 1.5 hour webinars follow the same structure as our tutorials.
A piezo partner -
what do we mean by that

We give you a competitive advantage by using our extensive knowledge to customize and optimize your piezo products. Thus, we will be your long-term piezo partner. Send your request today.
Request for quote
Search
tool
Max operating voltage / V
Min estimated blocking force / N
Length or outer diameter / mm
Width or inner diameter / mm
Product category
Choose here...
Plate actuators
Plate stacks
Ring actuators
Ring stacks
Plate benders
Ring benders
Shear plate actuators
Shear stacks
2D actuators
High temperature stacks
Damage tolerant stacks
Material
Choose here...
NCE51
NCE51F
NCE46
NCE57
NCE40
NCE41
NCE55
NCE56
NCE59
NCE81
0,00
AA
Material
Type
0.00