23 February 2017
Impressions from Oceanology International 2017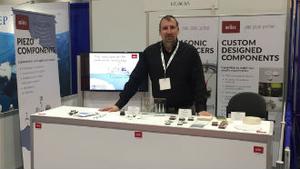 Interesting US underwater market
Noliac has exhibited at Oceanology International in London with great success in both 2016 and 2014. John Klausen, Managing Director at Noliac North America, explains why Noliac wanted to exhibit at Oceanology International in United States and gives his evaluation of the exhibition:
- The market for underwater applications in US is very interesting for us, and we were happy to hear that Oceanology International was coming to North America as well. Exhibiting here was a good opportunity to draw attention to Noliac's products for the underwater US market. The exhibition went very well, and we had many interesting enquiries about our company and products. We will definitely consider exhibiting at Oceanology International North America in 2019.
Piezoelectric products for underwater applications
Noliac designs, develops and manufactures high quality piezo products, which are used in different types of underwater applications. John Klausen explains:
- We offer a total range of piezo products for the underwater market, including our own range of piezoceramic materials. Our monolayer piezo components are produced with a market leading range of dimensions, e.g. very large discs and tubes. All piezo components are custom designed to match specific requirements. Also, we design and manufacture customized plug-and-play piezo transducers, so that our customers can focus on the design of the application.
About Oceanology International North America 2017
More than 150 suppliers from 13 countries exhibited and more than 1,500 attended the three days of the first Oceanology International in North America. The exhibition will return to North America in 2019.